China News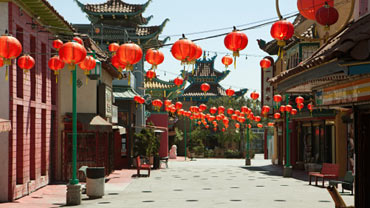 NANNING, China, Oct. 22 (Xinhua) -- Belgium's Tim Wellens (Lotto-Soudal) surged to win stage 4 of the inaugural Gree UCI WorldTour Tour of Guangxi on Sunday as he rode away from Bauke Mollema (Trek-Segafredo) and Nicolas Roche (BMC Racing ...
(Oct 22, 2017, Xinhua)
GUANGZHOU, Oct. 22 (Xinhua) -- Guangzhou Evergrande sealed their seventh straight Chinese Super League (CSL) title after beating Guizhou Hengfeng Zhicheng 5-1 here on Sunday. With two games remaining, a nine-point lead over second placed ...
(Oct 22, 2017, Xinhua)
The Chinese Embassy made the request in a letter written to the Interior Ministry on October 19, saying a member of the banned terrorist group East Turkestan Islamic Movement (ETIM) has sneaked into Pakistan to assassinate its ambassador. World | Press ...
(Oct 22, 2017, NDTV)
Young people in China are rejecting Communist party propaganda for Western-style movie stars and celebrity culture – that's the lesson behind the box office flop of a series big budget propaganda films according to observers. When the movie Founding ...
(Oct 22, 2017, Newsweek)
China's Minister of Housing and Urban-Rural Development Wang Menghui speaks at a press conference held by the press center of the 19th National Congress of the Communist Party of China (CPC) in Beijing, capital of China, Oct. 22, 2017. The press ...
(Oct 22, 2017, Xinhua)
YONGCHUAN, China, Oct. 22 (Xinhua) -- Five-time World Player of the Year Marta believes that Brazil women's soccer team have the strength to fight back to the top of the world although they have been through some bad moments. Brazil, the traditional ...
(Oct 22, 2017, Xinhua)
HONG KONG, Oct. 22 (Xinhua) -- Police of China's Hong Kong have arrested a man from Southeast Asia for pushing a cleaner onto a rail track in the town of Yuen Long, according to local media on Sunday. A closed-circuit video posted online showed that a ...
(Oct 22, 2017, Xinhua)
China's unemployment rate has hit its lowest point in multiple years at 3.95 percent by the end of September, but employment still face challenges as the economy pushes ahead with structural reforms, China's labour ministry says. The ministry of human ...
(Oct 22, 2017, The Australian)
Sunlight barely reaches the depths of the cavernous, 5,000 sq ft warehouse space in Chai Wan where Dr Werner Burger and his Taiwanese-born wife, Tsai Yui-mei, who goes by the name Lucy, house seven tons of coins. Dating from between 1636 and 1911 ...
(Oct 21, 2017, South China Morning Post)
MOSCOW, Oct. 21 (Xinhua) -- Russia has said it is confident that Iran is fulfilling all its obligations under a multilateral agreement on its nuclear program and will not take part in any talks on amending the deal. Russian Deputy Foreign Minister ...
(Oct 21, 2017, Xinhua)
WELLINGTON, Oct. 21 (Xinhua) -- China has played an increasingly key role in the world and adopted new ways to promote economic integration as reflected in the Belt and Road Initiative, a New Zealand politician said. In a recent interview with Xinhua, ...
(Oct 21, 2017, Xinhua)
Beijing is "losing no time" to seek feedback on a draft plan to develop the "Greater Bay Area" connecting Hong Kong, Macau and southern Guangdong and is looking into the details, including a customs policy, a senior official said on Saturday. He Lifeng ...
(Oct 21, 2017, South China Morning Post)
Indian prime minister Narendra Modi and American president Donald Trump at the Partnership with Africa working session, the third session of the G20 summit in Hamburg, Germany, 8 July 2017. Photo: DPA Pool/Michael Kappeler. Even as the countdown ...
(Oct 21, 2017, Asia Times)
Beijing: Experience shows that foreign interference in crises does not work and China supports the Myanmar government's efforts to protect stability, a senior Chinese official said on Saturday, amid ongoing violence in Myanmar's Rakhine state. More ...
(Oct 21, 2017, Firstpost)
SHANGHAI (Reuters) - Strengthening the role of the Communist Party in the governance of China's state-owned enterprises (SOEs) will improve their performance and not hurt private investors, the head of the state-asset regulator told reporters. Xiao ...
(Oct 21, 2017, Reuters)