China News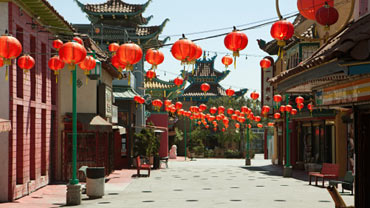 BEIJING — A Chinese county along the border with North Korea is constructing refugee camps intended to house thousands of migrants fleeing a possible crisis on the Korean Peninsula, according to an internal document that appears to have been leaked ...
(Dec 11, 2017, New York Times)
BEIJING — China rejected on Monday accusations that it had used LinkedIn and other social media sites to infiltrate the German government, responding to claims from German intelligence services that more than 10,000 citizens had been targeted by ...
(Dec 11, 2017, New York Times)
NEW DELHI (Reuters) - Russia threw its weight behind China's massive Belt and Road plan to build trade and transport links across Asia and beyond, suggesting to India on Monday that it find a way to work with Beijing on the signature project. Russian ...
(Dec 11, 2017, Reuters)
A famous Chinese 'rooftopper' fell to his death from a skyscraper in a daring £11,000 challenge as he sought to use his fame to help lift his family out of poverty, media reported. Wu Yongning, aged 26, fell from the summit of the 62-storey Huayuan Hua ...
(Dec 11, 2017, Telegraph.co.uk)
China President Xi Jinping pledged to unleash an "iron hand" to protect the environment and deal with chronic pollution. Among the main strategies is reducing the reliance on smog-spewing coal and switching industrial factories to cleaner natural gas ...
(Dec 11, 2017, Bloomberg)
The last time China pressured Hong Kong to scrap its curriculum in favor of one developed by China's Communist Party-led government, tens of thousands marched through the city chanting, "Down with national education!" It was the summer of 2012, and the ...
(Dec 11, 2017, NPR)
Meitu's apps are changing what it means to be beautiful in the most populous country on earth. By Jiayang Fan. Illustration by Ji Lee. HoneyCC likes to say that she scarcely remembers the last time someone called her by her given name, Lin Chuchu. She ...
(Dec 11, 2017, The New Yorker)
Beijing: The diplomatic row with China has worsened with the authoritative Communist Party newspaper People's Daily taking the unusual step on Monday of calling on the Australian government to "reject political prejudices and paranoia". People's Daily ...
(Dec 11, 2017, The Sydney Morning Herald)
A boat carries teak trunks down the Irrawaddy River in Myanmar. The trees are cut in the northern forest. Photo / Getty Images. Other. By: Bill Laurance. Share via email Share on Facebook Share on Twitter Show more Bookmark this article. Share on ...
(Dec 11, 2017, New Zealand Herald)
When China's leaders meet at the end of each year to judge the state of the economy and set policy priorities for the next 12 months, they do so behind closed doors and only release a summary of their findings when the meeting is over. However, few who ...
(Dec 10, 2017, South China Morning Post)
A Liberal Party-aligned fundraising machine will host a private business briefing by Chinese government officials for federal and state government MPs and its corporate members on China's Belt and Road economic and strategic policy, just a week after ...
(Dec 10, 2017, The Australian)
Foreign ministers of Russia, India and China (RIC) will tomorrow deliberate on a range of pressing regional and global issues, including ways to tackle the threat of terrorism and extremism, at a key meeting of the trilateral grouping here. It is ...
(Dec 10, 2017, Economic Times)
Just as Immigration Minister Peter Dutton warned there was more to come on allegations of Labor Senator Sam Dastyaris links to China, the head of Germanys domestic intelligence agency is warning that China is using social networks to try to cultivate ...
(Dec 10, 2017, The Australian)
A Chinese decision to redevelop criteria for the funding of infrastructure projects that are part of the $50 billion plus China Pakistan Economic Corridor (CPEC), a key pillar of the People's Republic's Belt and Road Initiative, seemingly amounts to an ...
(Dec 10, 2017, HuffPost)
Chinese official sacked after wife accused of kicking pregnant nurse ...
(Dec 10, 2017, South China Morning Post)