China News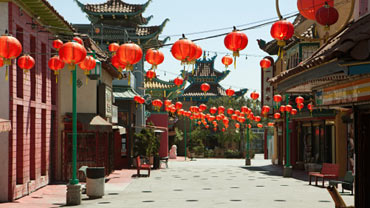 A SHOW OF U.S. MILITARY MIGHT – F/A-18 Hornet jetfighters are parked on the deck of USS Carl Vinson, which arrived in Manila on a port visit. (Ali Vicoy). ABOARD USS CARL VINSON, Philippines — United States (US) forces are undeterred by China's ...
(Feb 18, 2018, Manila Bulletin)
Tourists visit the Bund in east China's Shanghai, Feb. 17, 2018. The Chinese people enjoy their week-long holiday for the Spring Festival, or the Chinese Lunar New Year, which fell on Feb. 16 this year. (Xinhua/Zhuang Yi). BEIJING, Feb. 18 (Xinhua ...
(Feb 18, 2018, Xinhua)
In the hall at the ambassador's residence, there's a black-and-white photograph on the wall of two smiling young men at the center of a group. The year was 1985. Terry Branstad was in his first term as governor of Iowa. A county-level Communist Party ...
(Feb 18, 2018, NPR)
Chinese investment is paying off with serious advances in biotech, computing and space. Are they edging ahead of the west? by Philip Ball. Sun 18 Feb 2018 04.00 EST. Share on Facebook · Share on Twitter · Share via Email; View more sharing options ...
(Feb 18, 2018, The Guardian)
More Chinese restaurants are going vegetarian, but not many make ...
(Feb 18, 2018, South China Morning Post)
Chinese authorities are calling for a heavy punishment for the American man charged with stealing a thumb from an ancient terracotta warrior statue that was on display at a museum in Pennsylvania, and compensation for the damage caused to the US$4.5 ...
(Feb 18, 2018, The Star Online)
For years, one had to physically travel some distance to see the remote village in China's bleak northwest where the country's paramount leader developed the no-nonsense approach he now uses to lead the world's most populous nation. Now, however, it is ...
(Feb 17, 2018, South China Morning Post)
Fishermen on board a small boat pass by the USS Carl Vinson aircraft carrier at anchor off Manila, Philippines, for a five-day port call along with guided-missile destroyer USS Michael Murphy, Saturday, Feb. 17, 2018. U.S. Lt. Cmdr. Tim Hawkins told ...
(Feb 17, 2018, NavyTimes.com)
China could be turning an artificial island in contested South China Sea waters into an intelligence hub as it seeks to exert control over the region, according to a Washington-based think tank. The CSIS Asia Maritime Transparency Initiative said the ...
(Feb 17, 2018, South China Morning Post)
BEIJING, Feb. 17 (Xinhua) -- A vaccine to protect people against four subtypes of seasonal influenza viruses is expected to be available on the Chinese market in the second half of 2018, a health official said. Gao Fu, director of the Chinese Center ...
(Feb 17, 2018, Xinhua)
ABOARD USS CARL VINSON, PHILIPPINES: A Navy officer aboard a mammoth US aircraft carrier brimming with F18 fighter jets said American forces will continue to patrol the South China Sea wherever "international law allows us" when asked if China's newly ...
(Feb 17, 2018, Times of India)
Military vehicles carrying DF-21D ballistic missiles roll through Tiananmen Square in 2015. Damir Sagolj / Reuters file. Share; Share · Tweet · Comment · Email; Print. BEIJING — The Chinese New Year began with the traditional lighting of firecrackers ...
(Feb 17, 2018, NBCNews.com)
China is warning President Trump that it will take action if he puts heavy tariffs on imports of steel and aluminum. U.S. Commerce Secretary Wilbur Ross on Friday recommended that Trump impose measures against foreign suppliers of the metals in the ...
(Feb 17, 2018, CNNMoney)
China vowed on Saturday to retaliate after the US Department of Commerce proposed hefty tariffs on imports of Chinese aluminium and steel, with observers warning of further tit-for-tat trade action between the world's two biggest economies. China's ...
(Feb 17, 2018, South China Morning Post)
Kelly Hui, a 26-year-old photographer, shares a 60 square metre flat in Shenzhen with a flatmate, but they seldom talk. Her most constant companion is, instead, a virtual frog found in the Japanese smartphone game Tabikaeru: Travel Frog. Even though ...
(Feb 17, 2018, South China Morning Post)