China News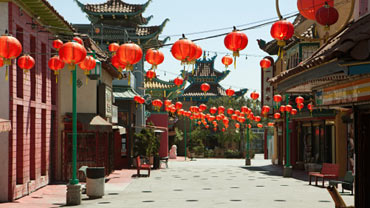 China is charting a course for a new economic future by becoming "the great disrupter of our time", according to Nikko Asset Management. The company's global head of investment, Wang Yuming, says in a new report that as the country's economic ...
(Aug 20, 2017, The Australian)
Rwanda President Paul Kagame (R) meets with Liu Xiaofeng (2nd L), the special envoy of Chinese President Xi Jinping and vice chairman of the National Committee of the Chinese People's Political Consultative Conference, in Kigali, capital city of Rwanda ...
(Aug 20, 2017, Xinhua)
BEIJING, Aug. 20 (Xinhua) -- China's new generation bullet train, the Fuxing, will run on the Beijing-Shanghai high-speed railway from September 21 at 350 kilometers per hour, China Railway Corp. said Sunday. It will be the world's fastest commercially ...
(Aug 20, 2017, Xinhua)
South Korea's $72.2 billion surplus with the People's Republic in fact tops a list of more than 40 nations that export more to the country than they import from it, ...
(Aug 20, 2017, Bloomberg)
CAIRO, Aug. 20 (Xinhua) -- Deputy Chairman of the Cairo Chamber of Commerce Ali Shoukry said on Sunday Egypt seeks to tap new markets for Egyptian products during the Damascus International Fair. In a statement on Sunday, he said Egypt's ...
(Aug 20, 2017, Xinhua)
The immediate impact of any trade war between the US and China would be worse for Beijing, according to a new analysis of multinational companies' exposure to the Chinese market. Nor would the export sectors of the US and other major developed ...
(Aug 20, 2017, Financial Times)
North Korean dictator Kim Jong-un says the United States will pay a "thousand-fold for all the heinous crimes" it has committed against his country. US President Donald Trump warns that North Korea will experience "fire and fury like the world has ...
(Aug 19, 2017, Asia Times)
Taipei (AFP) -Taiwan has long seen its international allies switching allegiance to an ascendant Beijing, but now there are also fears of a brain drain of the island's youth as they pursue careers in rival China. Cross-strait tensions have soared since ...
(Aug 19, 2017, The Star Online)
It is a crucial year for the president and communist party's general secretary, who appears to be consolidating his control. 16:32, UK, Saturday 19 August 2017. Beidaihe. Image: The Sky News crew was told to stop filming by police in Beidaihe. By Katie ...
(Aug 19, 2017, Sky News)
The biennial Summer Universiade, dubbed the "Little Olympics," is the largest ever sporting event Taipei hosts but it has also highlighted tensions with Beijing and the island's struggle for international recognition. AFP. Updated:August 19, 2017, 8:42 ...
(Aug 19, 2017, News18)
BEIJING, Aug. 19 (Xinhua) -- Chinese border troops have always been committed to upholding peace and tranquility of the China-India border areas, said a Chinese foreign ministry spokesperson Wednesday in response to India's trespassing into the Dong ...
(Aug 19, 2017, Xinhua)
China's tech titans have blown earnings forecasts out of the water in the latest quarter, propelling their shares higher. Baidu, Alibaba and Tencent, collectively known as BAT — along with ecommerce group JD.com, microblogging-turned-livestreaming ...
(Aug 19, 2017, Financial Times)
Geopolitics matters. As we move deeper into a multipolar world, the importance of grand strategy will only grow. Relations between states at a strategic, economic and even emotional level will all intertwine to create a complicated web that will ...
(Aug 19, 2017, South China Morning Post)
WASHINGTON: US Trade Representative Robert Lighthizer has formally initiated an investigation of China's intellectual property practices under Section 301 of the Trade Act of 1974, which will seek to determine if America's largest trading partner has ...
(Aug 19, 2017, Economic Times)
China Unicom will sell small stakes to four Chinese internet companies in a test case of the nation's efforts to reform its state-owned enterprises. Email; Print; 0 Comments; Order Reprints. Facebook. Share. Twitter. Google+. smaller; Larger. close ...
(Aug 18, 2017, Barron's)